DTEK Renewables wins the Climate Bonds Initiative's "Green Bond Pioneer Award 2020"
DTEK Renewables has been awarded a 2020 Green Bond Pioneer Award by The Climate Bonds Initiative, in recognition for being the first Ukrainian company to issue green bonds.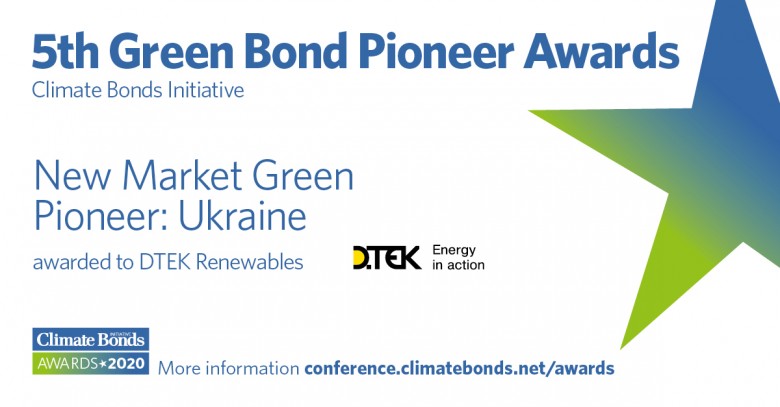 Awarded to companies, organizations, financial institutions and governments, the Green Bond Pioneer Awards (GBPA) are the premier international recognition of best practice and innovation in green finance. They are presented by The Climate Bonds Initiative (CBI), an investor focused not-for-profit which is seeking to mobilize $100 trillion in bonds to tackle climate change.
The CBI said: "The addition of a Ukrainian non-financial corporate to a growing group of entities issuing green bonds is a welcome and encouraging sign of market development and shrinking barriers to entry. Further, the Ukraine's energy mix is dominated by fossil fuels – and DTEKs placement represents a key step in a right direction in this regard".
DTEK Renewables is the operating company managing the renewable energy assets of DTEK Group. DTEK is a leading national investor in the energy sector of Ukraine. For 15 years, the company has invested more than $10 billion in the development of the industry, including €1.2 billion in the development of green generation. In November 2019, DTEK Renewables issued its inaugural green bond at a value of €325m, offering 8.50% senior notes with a term of five years. The placement was a landmark debut for the company, the region and the sector, cementing DTEK's place as a pioneer in the Ukrainian renewables market. The transaction became the first single "B" green bond issued in EUR, and the first issuance by a renewable company from Central and Eastern Europe.
CEO of DTEK Renewables, Phillip Leckebusch, said: "We are proud to have been able to successfully initiate the debut attraction of our first green Eurobonds last year and to open up this important financing instrument for emerging markets. This award is testament to the milestone achievement for our company and Ukraine" He further added that "the Ukrainian green energy sector has become one of the few remarkable success stories for the country, having so far attracted investments of more than €10 billion. It is important that Ukraine now overcomes the current crisis in the energy sector, and continues its long-term path of structural reform and transition towards a low-carbon economy in alignment with our European partners".