Corporate action of DTEK "Clean City": Pridneprovskaya TPP landscapes the Dnieper
The collective of DTEK of Pridneprovskaya TPP together with the indifferent inhabitants of the Dnieper during the volunteer action "Clean City" was removed park areas near the station and landed 50 trees and 100 bushes. A new green zone was located in the vicinity of the slag storage of TPP near the village of Chapli. More than 60 people took part in the subbotnik.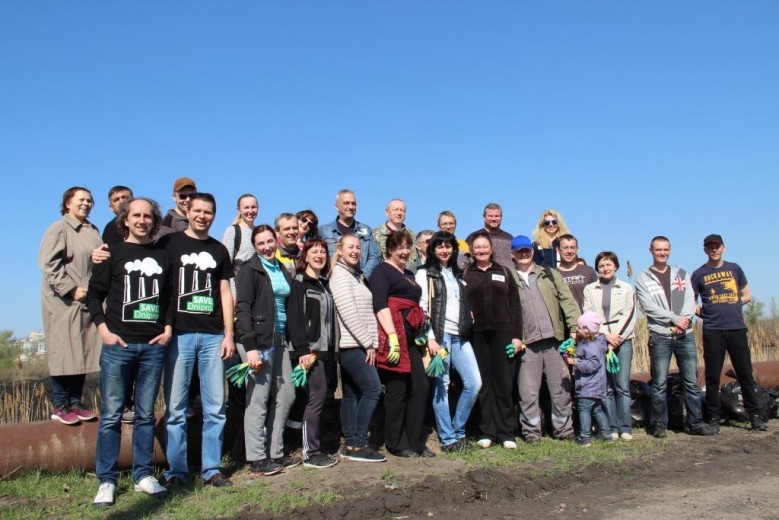 "DTEK Pridneprovskaya TPP fulfills its obligations under the Memorandum of Cooperation signed with the leadership of the city of Dnepr in early April. One of his points is participation in the gardening of the city. Today we landed 50 maples and 100 spiree bushes. In the plans for 2018 - 300 bucks, "- said the director of DTEK Pridneprovskaya TPP Sergei Degtyarenko.
More than 60 employees of DTEK of Pridneprovskaya TPP and not indifferent inhabitants of the city gathered for the cleaning day. The volunteers cleaned the park area near the station, cleaned up the surrounding area and took out about 10 cubic meters of garbage accumulated during the winter. "Zest" of the event was the planting of trees at the ash dump of thermal power plants near the village of Chapley. Together with energy specialists, the trees were planted by representatives of environmental NGOs.
"Planting trees is the first step of the Memorandum, we see the start of its implementation and the desire to move on. We are positive about this, because any actions aimed at improving the ecology in our city, in our region, on the part of Pridneprovskaya TPP can and should be taken positively, "Pavel Tkachenko, an activist of the environmental movement, said.
Before the start of the action, all participants passed mandatory training on labor protection, received equipment and personal protective equipment.
"Subbotnik for me is held under the motto" Start with yourself! "Here our children live, they play in our parks, breathe this air, and so it is important that new trees grow in our city. Such initiatives are very useful. It's nice that after our subbotnik Dnipro will be cleaner and more beautiful, "said Yevgen Masalov, the master of the production site of the fuel and transport shop of Pridneprovskaya TPP.
Recall, on April 3, DTEK and the Dnieper signed a Memorandum on long-term cooperation. The document strengthened the city's and the city's bilateral cooperation obligations in the framework of the development of the social and cultural infrastructure of the Dnieper and the integrated environmental modernization of DTEK at Pridneprovskaya TPP.
The volunteer action "Clean City" is a traditional project of DTEK, it is already the tenth time. During such events, DTEK employees arrange the territory of the cities where the company operates. Last year, volunteers from DTEK at Pridneprovskaya TPP planted 100 trees on the banks of the Shiyanka river during a similar action.